How Can Organizations Tackle The Sustainable Plastic Challenge?
Plastic has become an integral part of modern day life thanks to its extreme adaptability and use in multiple applications. It is durable, robust and flexible, yet light weight. The material has played an important role in reducing the overall environmental impact of products through reduced product damage in transit, reduced environmental impact of transportation and a reduction in food waste levels by increasing protection and extending shelf life.
Yet for all its benefits, there is now a wider movement for a more sustainable approach to plastics. With consumers becoming increasingly concerned about its environmental impact - from the production of plastic using fossil fuels to the unsustainable disposal at its end of life - there are real issues for businesses to address throughout the supply chain.
Why businesses are responding to the plastic challenge?

Since the end of 2017, there have been a wave of pledges and position statements released by manufacturers and retailers around their plastic reduction ambitions.
The plastic challenge is complex and there are many factors competing simultaneously that need to be considered when developing action and strategy plans.
The challenge also presents businesses with great opportunities to innovate, develop new USPs, secure customer loyalty, safeguard supply chains and create a more circular business economy.
We fully understand the importance of plastic packaging retailers and manufacturers, with the role it plays in protecting and ensuring the safe delivery of a product. We also understand the necessity in reducing plastic waste, single-use plastic, products containing microplastics and littering, ensuing sustainable end of use handling of plastics.
Our free sustainable plastics guide explores how your organization can create an actionable strategy to fully address this issue.
How to define your plastic strategy
It's going to be vital for businesses to respond to the issues on a strategical level. Effective propositions need to make sense financially and on a long-term scale.
If you're not sure where to start, download our 7-page single-use plastic FAQ guide, where we give our expert view on a series of questions published by the government. This will help to give you a better understanding from where you can develop your approach.
Our deep subject expertise, developed from working with businesses on this topic, can help you start the journey, define your strategy and mobilize your team. We can support you to:
Understand how the current political landscape, consumer concerns and other disruptive factors could impact on your business models.
Undertake a plastic packaging inventory and hot spot analysis to identify the volumes, types and formats of plastics used within your business to identify potential risks and opportunities.
Develop your company's priorities in relation to plastic reduction and what it wants to achieve. These could be tied to Sustainable Development Goals or other existing sustainability targets.
Identify priority areas of focus and potential solutions to develop using prioritization processes, informed through the initial three actions.

Implementing your plastic strategy
Creating a business strategy is your first step. After that comes implementation where your company can start to make a real change. Rest assured, change is not to the detriment of your business, but to the long-term benefit. We can help you make crucial, evidence-backed decisions.
The unique set-up of Anthesis as true specialist in the market, means we can bring additional expertise and further insight to the table. We understand the technical issues and positioning strategies, but can also provide implementation with design and materials expertise.
When it comes to packaging we can provide support with:
Alternative packaging reviews

Compliance measures

Materials sourcing and advice

Designing for recyclability

Raw material substitution and impact assessments.
With sustainable chemistry experts at hand, we can thoroughly assess substitution strategies for the packaging you use, as well as green claims, eco-toxicity assessments and regulation guidance.
As many business supply chains span across the globe, it's not as simple as getting your own house in order. Many companies now are focussed on creating sustainable supply chains where best practice is identified and rolled out to all your suppliers. Our experience in working on a global front, can benefit your organization when it comes to supply chain design, risk assessment and resource efficiency reviews.
We can help you come full circle (as shown below) in your approach through production, consumer use and end-of-life. Where your product ends up when it is no longer needed or desired is the final step that is often missed out. Our experience of recycling and waste management will enable you to get this right so you have true solutions running through your products.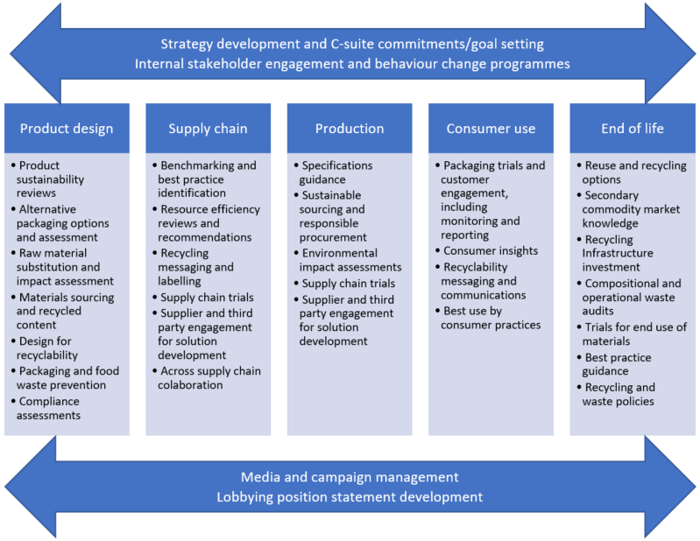 ---
Clients we have worked with include:
Paper Cup Recovery and Recycling Group • Unilever • Coveris • Belu • Costa Coffee • Huhtamaki • AkzoNobel • Avaya
---
---
Read more of our leading plastic content:
---
Would you like to speak to someone about plastic and becoming more sustainable? Get in touch: