SCIENCE BASED TARGETS: Essential Resources
Welcome to our dedicated Science Based Targets resource library. Here you'll find a host of useful materials to help guide you through the process of setting an SBT. Join a growing list of companies by reducing your GHG footprint, in-line with climate science!
Watch our SBT webinar, which will help you to:
· Evaluate the various Science Based Target methodologies that can be applied
· Understand what is typically required in order to set a Science Based Target
· Think about how to prioritize and implement GHG emissions reduction activities
· Understand the tools available for data collection in the supply chain
· Assess how data visualization can inform decision-making & enable reporting
Watch the SBT webinar recording: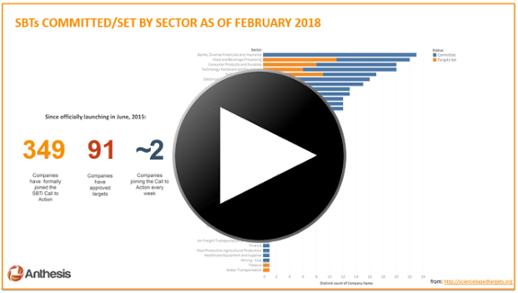 Watch the Tableau Demo:
Anthesis' Josh Whitney explains how our online password-protected data visualization tool allows you to create and forecast GHG emissions for your business and test the impact of reduction strategies towards achieving a science-based target.
Click below to test out the live SBT dashboard tool for yourself. Click across the tabs at the top of the dashboard and then click within the dashboard to adjust inputs and see the resulting visualizations. (Inputs and results are illustrative.)

SBT Health Check: Where do you stand?
Take our SBT Health Check and receive the slide deck from our webinar.
Answers to this survey will help you to assess your readiness to set a Science Based Target.
Create your own user feedback survey
To review a more comprehensive assessment, please consult our full SBT Questionnaire:

Our blog posts on the subject of SBTs:
Two Key Developments for Science Based Targets
Why Smart Businesses are Adopting Science Based Targets
Guiding Suppliers to Set Ambitious Carbon Reduction Targets
The Business Case for Science Based Targets
Corporate Renewable Energy Strategies: Enter the "Impact" Theme
Would you like someone to get in touch with you about this topic?